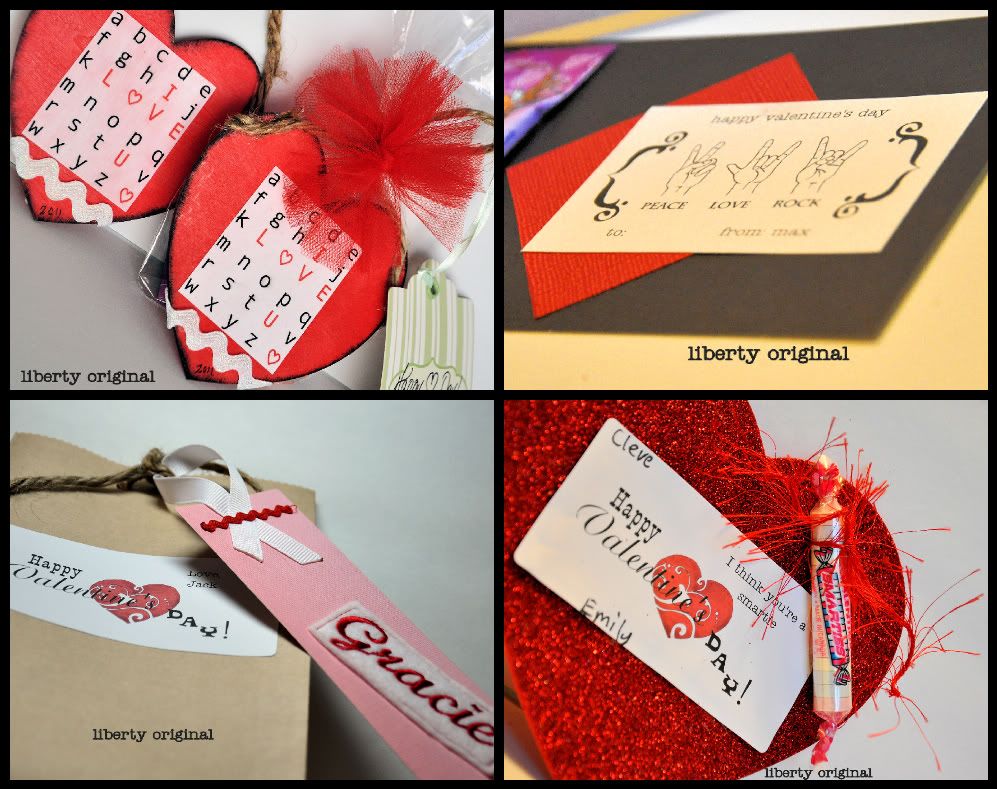 I actually finished all of the kids' school valentines BEFORE midnight!!  I'm patting myself on the back. :) 
Those wooden hearts that jumped into my cart sure came in handy this year.  I used them to make Finley's class valentines with a super cute "I Love You" printable I found on someone's blog.  I can't remember whose though… so, if you know, PLEASE leave a comment or email me so I can give proper credit!! 
I used the "Peace, Love, Rock" digital art from Urban Threads , a little card stock, and spray adhesive for Max this year.  It's his LAST year to exchange love notes as a class.  Man, I feel OLD!
Jack's goody bag definitely evolved as the evening progressed.  I had all the fun things for the bag, but didn't know quite how to present it.  I was originally going to make little felt bags for everyone, but ran out of time.  Then, I was just going to do felt name tags.  They ended up as bookmarks!  I think they turned out super cute, so I'm going to do a tutorial on how to make them. :)
Emily had hers planned out for about a month.  She came up with the phrase, "I think you're a smartie" so she could give out her FAV candy.  She rocked the low temp glue gun, btw.
The wooden hearts ALSO turned into teacher Valentine's this year.  I tried to incorporate each teacher's personality into their heart.  It's amazing how paint, burlap, mod podge, and scrapbooking supplies can transform plain wooden shapes. 
I really had fun this year for Valentine's Day!!  I'm a wee bit sad that it will be over in 24 hours.  I guess I can always start planning for next year. ;)
Linking up here…. check out these awesome parties!