Have you noticed this little button on my sidebar??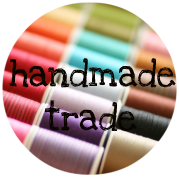 I was paired up with 2 swap partners as Amber's partner was unable to participate….  I haven't exactly finished my trade items for Amber and PoeKitten but I'm ALMOST done!!  If you haven't visited her before, please check out Amber's Blog!!  I love her style and easily get lost in reading all about her postcards, craftiness, recipes, and kiddos.  I received these lovelies in the mail about 2 weeks ago:
I was uber UBER excited and have received more compliments than I can count on her handmade craftiness!!  Look at the attention to detail in the bracelet girls…  I am so in love and so happy that these little gems are mine to keep.  :) (I know that makes me a wee bit selfish… but hey…)
Amber was one of the first 5 to comment on my
post so I get to make her more than one pretty!
Thank you, Amber!!!  You are
FABULOUS!!