I have a NEW cozy in my etsy shop! 
"Won't tweet 'til this cup's complete"
I'm horrible at making up catchy phrases… I really liked the little birdie and wanted to use him somehow, someway. :)
It's also time for: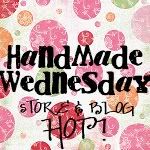 My blog is co-hosting this week! :)  You can have a chance to co-host as well!  Link up your crafty blog here:
If you have a handmade store, link up here: (make sure you specify etsy, artfire, or personal)
Happy Wednesday to you.