Those I call "friend"

I seriously am trying to blog more my friends… I just can't seem to find a balance between all of the many hats I wear.  If I spend more time blogging, I feel neglectful of my house and family.  If I spend all of my time with my house and family, I feel like I'm losing the "creative me."

(Which makes me a bit grumpy, sad to say but true.  If I don't make time to unleash my creative side I'm not very fun to be around.)
Anywho, there's my little sob story for the evening.
NOW, for something a bit brighter;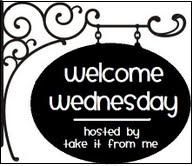 I'm participating in Welcome Wednesday over at Take it From Me!!  Come join along. :)