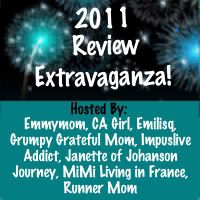 I kept telling my bloggy pal
Janette
that I was going to participate in the 2011 Review Extravaganza and I'm finally keeping my word!!
Before I review my blogging goings on, I just want to tell you what I learned in life this December:
1. Being out of town 5 consecutive weekends prior to Christmas isn't exactly the greatest way to get prepared for said holiday.  Although I thoroughly enjoyed all my trips and wouldn't take them back, Christmas really sidled up on my this year.  Now that I'm finally in the mood, it's O.V.E.R.!
2.  Having the main floor of my house painted 2 weeks before Christmas wasn't a very smart move either.  Yes, I'm loving the freshness and the color.  But, I didn't have time to sit at home and babysit the painters for the entire week. Not to mention, I missed my daughter's fieldtrip to the science museum waiting for aforementioned painters to show up on the second day (which they finally did at 2 pm… could have made it after all).  Also, not to mention, I wasted my last week without kids sitting at home instead of being out shopping for them (see #1 for the reason I needed to shop).
3.  When life gets too busy crazy, I don't blog.  It's not that I don't want to, but it becomes one more thing on my "have to do" list.  I resent it along with everything else on that list.
4.  My kids continually amaze me, in both good ways and bad.  Emily took first all around in her third straight gym meet, Max and Jack both earned their green belts in Tai Kwon Do.  Finley learned the phrase, "I will never ever EVER be naughty again," and used it daily.  He followed it with "I love you SOOOOO much.  You are my best friend." 
5.  My husband CAN still surprise me… he went to Jared for Christmas and made me feel like a princess. :))
Ok, Blog Recap:
October was a pinning, crafting, boot wearing, What I Wore Wednesday and Talk To Us Tuesday kind of month.
In November, I started to get busy with the kids but continued my addiction with Pinterest and boots, started new addictions with Twitter and Instagram, and spent a large amount of time in Jack's class.
  In December, I tried to organize my Christmas plans via pinterest, spent all the time that I could in Jack's class, and got my new laptop!!  Woot woot!!  I still don't have everything switched over but I'm working on it.  Yeah, basically not a blogging month for me. :(
Cheers to 2012!  My motto for 2011 was "Making the effort" which helped keep me focused on my family.  I think for 2012, I'm going to go for "Keep it simple."  I still have a few hours to decide, right?